Amsterdam, Barcelona, London, New York, Paris and Singapore – Famous Cities Vector Pack 2
These 6 cities are among the most famous and the most visited cities on the Globe. Designious.com gathered these beautiful 6 cities into their Famous Cities Vector Pack 2, which is part of the 100 Vector Cities project.
Designious recently released a fabulous collection of 10 Famous Cities Vector Packs and we wanted to present them to you in an original manner. We would like you too see beyond the illustration, to find out some interesting info about that city, in order to use it properly in your design work. That's why I'm going to tell you a small story about every city included in every pack, and today I'm going to continue with Famous Cities Vector Pack 2.
You should also check out the post about Famous Cities Vector Pack 1, where you will read interesting facts about Antalya, Bangkok, Dubai, Hong Kong, Istanbul and Kuala Lumpur.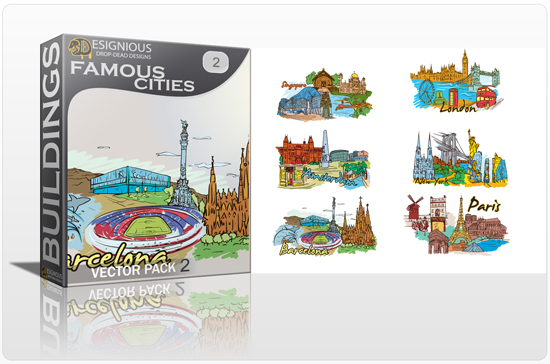 This is a fantastic read for a couple of reasons:


you get to find out some interesting facts about some of the worlds famous cities,


you will see some awesome vector buildings and touristic attractions from those cities created by the talented artists from Designious.com


you can get your hands on these magnificent vector resources from Designious.com and create your very own amazing artworks for your design projects!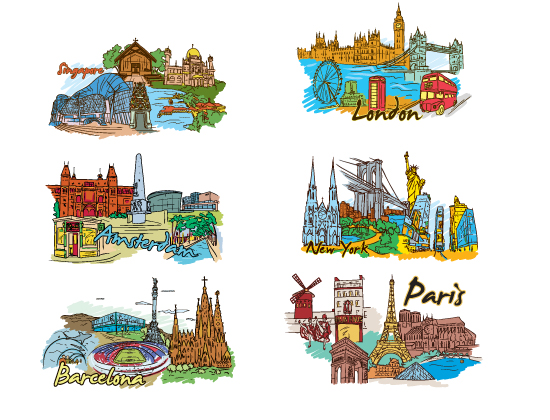 Amsterdam is the largest city and the capital of the Netherlands. This city named after river Amstel is the headquarters of 7 of the world's 500 companies, is ranked 13th globally on the quality of living, here is situated the oldest stock exchange in the world and last but not least, this city is renowned for it's beauty, red-district and cannabis coffee shops which attract over 3 million international visitors annually. So, the main attractions in Amsterdam are: the historical canals, Rijksmuseum, Dam Square, the Van Gogh Museum, the Red Light District and the coffee shops.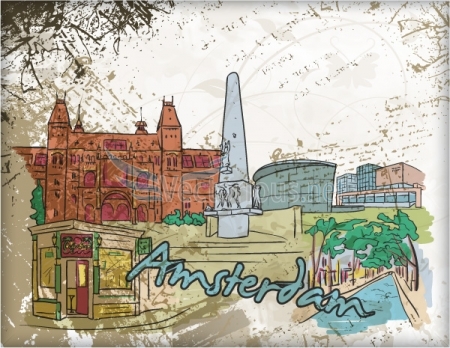 Barcelona is the capital and the most populous city of Catalonia and the second largest city in Spain after Madrid. It's actually Europe's largest metropolis on the Mediterranean Coast. Barcelona is in our days one of the most important tourist, economic and cultural center in the world, its influences in commerce, fashion, education and arts contributing to it's status as one of the world's major global cities. Moreover, this city is the 4th most visited city in Europe, with several million tourists every year. The most visited sights here are: Temple de la Sagrada Familis, CosmoCaixa Barcelona, the Barcelona Aquarium, the FC Barcelona Museum and Camp Nou.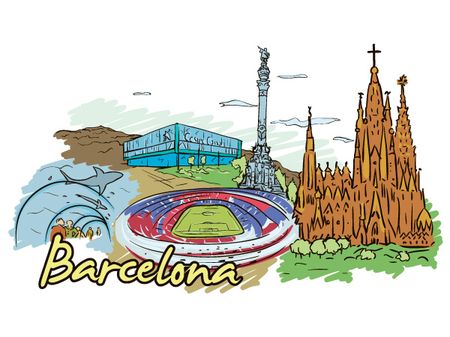 London is the capital city of England and the United Kingdom and a leading global city, with high influences in arts, education, commerce, entertainment, finance, fashion, tourism and transport. London hosts the headquarters of over 100 of the world's 500 largest companies, the busiest airport in the world by number of passengers, and it has the largest concentration of higher education institutes in Europe, with 43 Universities (!). Among the main touristic attractions and representative elements in London we name: the Big Ben Tower, Tower Bridge, Houses of Westminster, the London Eye, Piccadilly Circus, red telephone booths and two storey red buses.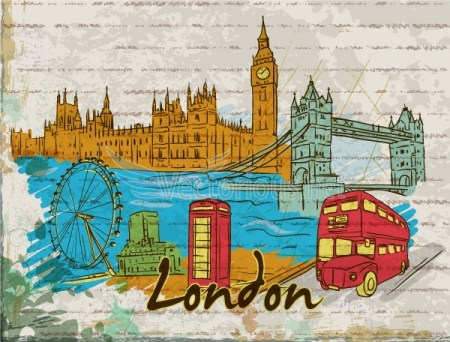 New York City is the biggest city in the United States, having a population of over 8 million. This city is renowned for exerting a significant impact upon global finance, commerce, media, research, technology, art, fashion, education and entertainment. New York City is the home of United Nations Headquarters and an important center for international affairs, while holding more than two-fifths of the state's population (the state of New York has 62 cities). Among the many representative things to see in New York we state a few like: Times Square, Central Park, the Statue of Liberty, St. Patrick's Cathedral and the Brooklyn Bridge.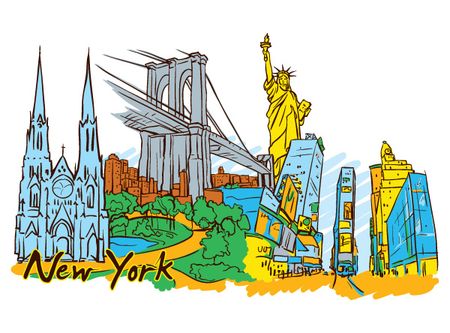 Paris is the capital and the largest city in France, it's situated on the river of Seine in northern France and it's one of the most populated metropolitan ares in Europe. Paris is considered today one of the world's leading business and cultural centers, with great influences in politics, education, art, fashion, entertainment and science, contributing to it's status as one of the world's major global cities – moreover, it was ranked among the three most important and influential cities in the world and it's among the 10 greenest European cities in 2010 and the headquarters of many international organizations – such as UNESCO. Among the representative sights here are: The Louvre, The Notre Dame Cathedral, The Eiffel Tower, Moulin Rouge and Seine River.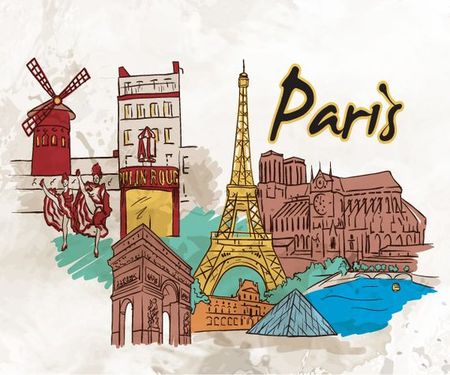 Singapore or officially The Republic of Singapore is a Southeastern Asian city-state made up of 63 islands with a highly developed market-based economy, being one of the Four Asian Tigers (along with Hong Kong, South Korea and the Republic of China). Singapore is also one of the busiest ports in the world and the world's fourth foreign-exchange trading center after London, New York and Tokyo – also being a major international transportation hub in Asia, positioned on many sea and air trade routes. Among the main attractions here we name: Sri Mariamman Temple, Sultan Mosque, Sentosa Island, Changi Chapel and Museum and Ion Orchard.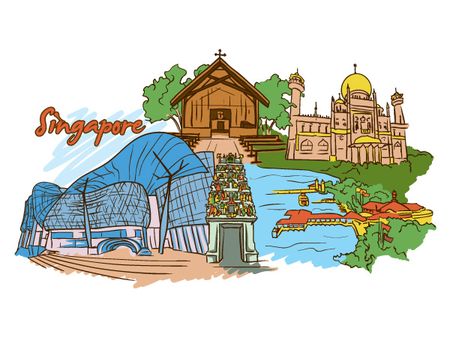 You can get these 6 vector cities all in one place with Famous Cities Vector Pack 2. Just imagine what you can do with all of these representative buildings and touristic attractions in vector format! Visit Designious.com right now and get your hand on this extremely useful vector resource!

Amsterdam, Barcelona, London, New York, Paris and Singapore – Famous Cities Vector Pack 2 is a post from Pixel77 – Graphic design blog with tutorials, resources and inspiration.